Call us now for an immediate QUOTE (631) 585-7000
Blog
About the Plan
The New York State Department of Transportation is developing a statewide freight plan that will be a comprehensive guide governing short and long term strategies and capital investments impacting the movement of freight. The Plan recognizes all modes of freight movement, including highway, rail, marine ports and inland waterways, air, and pipeline, as well as an accompanying focus on intermodal terminals, where freight changes between modes.
The Plan will be used to:
Understand why, how, where and when freight moves - and is anticipated to move - in New York State and how it supports the State's economy;
Create a structure for continuous interaction between freight stakeholders and NYSDOT;
Identify priority near and long-term investment needs for freight infrastructure and operations; and
Provide a roadmap for investing in freight supportive projects and programs that foster economic vitality and quality of life for New Yorkers.
New York State DRAFT Freight Transportation Goals
The goals listed below have been developed in alignment with the Moving Ahead for Progress in the 21st Century (MAP-21) Federal legislation, designated national freight goals and existing priorities for New York State:
Invest for the Future - New York State's freight transportation system will anticipate future freight growth, and ensure the most efficient movement of goods in all modes.
Build Partnerships - Engage partners to develop a strategic framework to advance high priority freight transportation projects and strategies.
Ensure Safety & Security - The freight transportation system must be safe, secure and be designed to be resilient to the impacts of extreme weather and climate change.
Provide Sound and Efficient Infrastructure - Identify infrastructure and innovative technology investments and operational strategies to ensure a state of good repair and efficiency for multi-modal freight movement.
Foster Economic Competitiveness - Strengthen national and global competitiveness for existing and emerging freight-centered business and activity in New York State.
Respect the Environment - Provide efficient goods movement through a connected multimodal infrastructure that supports the most fuel efficient, economical and sustainable freight movement and delivery.
What are the Benefits of a Cross Dock Strategy? 
A well-implemented cross-dock program can slash costs, while still meeting fill rate requirements of retailers. More specifically, cross docking allows companies to:
Reduce distribution costs by more than 50% on the items being cross docked.
Reduce facility operating costs. Cross dock facilities are smaller and simply cost less to operate than full-fledged distribution centers.
Reduce inventory. When the volume and timing of supply can be managed to precisely match demand, the need for large safety stocks is eliminated.
Reduce transportation costs. Transport mode shifts from high-cost LTL to consolidated truckload shipments that get there faster.
Increase retailer efficiency. Retailers receive fewer, precisely timed shipments, requiring fewer dock doors and receiving staff.
Why Don't More Companies Use Cross Dock Facilities?
Cross docking is a proven supply chain strategy, but many retailers don't use it because, frankly, it's hard. You need tight planning and coordination among manufacturers, carriers and 3PL partners, as well as the systems to synchronize inbound and outbound flows. 
Products that offer the best opportunity for cross docking share the following characteristics:
Have SKUs with strong, predictable demand, such as popular items, household staple items, and promotion items linked to advertising blitzes.
Have supply sources that can provide the right product, in the right volumes, at precisely the right time.
Receive products in "store shelf ready" condition.
Consider cross docking another tool in your logistics belt. Just like anything worth doing, it takes deliberate effort and investment. However, the numbers don't lie. Cross docking eliminates cost elements that account for over 50% of traditional warehouse distribution costs.
For more information visit  http://www.atcexpress.com
With the new ELD mandate going into effect in less than a year, trucking companies will be dealing with a very different regulatory landscape. All interstate motor carriers will be required to have their trucks equipped with electronic logging devices by December, and truck drivers will have to switch over to electronic logbooks for their HOS logs. 
While the mandate has the potential to force some small carriers out of business -- Freight-Recession-is-Over">possibly leading to higher freight rates, if capacity tightens -- there are several other proposed rules and regulations could also have major impacts on the trucking industry in 2017.
Here are 5 new regulations that could affect truckers and carriers the most.
ELD Mandate
Any truck driver who's required to track Hours of Service must do so with an electronic logging device (ELD) by December 16. Some shippers may require the carriers they work with to make the change earlier than that. (According to the FMCSA site: "Drivers of vehicles manufactured before 2000" are exempt from the mandate, though there's some confusion as to whether the exemption will be based on manufacture date or model year.) 
More info
Hours of Service
Some portions of the HOS rules that were introduced in July 2013 were lifted again in 2014. The 2013 rules required 34-hour restarts to include two stretches between 1:00 AM and 5:00 AM, and the restart could be used only once per seven days. Those provisions were suspended, and a study by the FMCSA and Virginia Tech University on the rules' safety impact will determine whether or not that suspension is permanent. According to Overdrive Online, the report is "under departmental review."
More info
MC Numbers
The Unified Registration System (URS) was scheduled to be fully implemented by January 14, but the FMCSA announced that it's been delayed. Again. We should learn the new date sometime soon. Once it's in place, the URS will replace the FMCSA's old registration system for operating authority, and going forward, all carriers, brokers, and freight forwarders will be identified solely by a DOT number instead of an MC, FF, or MX number.
More info
Speed Limiters
The public comment period closed last month on a proposed rule that would require speed limiters on vehicles that weigh more than 26,000 lbs. The FMCSA hasn't suggested what the top speed on the limiters would be. A large segment of those who participated in the public comment period argued against speed limiters, although some large carriers supported a 65 mph limit.
More info
Overtime Pay
New overtime rules were set to take effect last month, but a lawsuit filed in October by 21 states put the rules on hold. Current law says that any salaried employee making more than $23,660 per year is exempt from overtime pay. The new rules, if implemented, would push that limit up to $47,476 per year. It also would allow for 10% of commission or bonus pay to be counted toward the employee's total compensation, but only if paid at least quarterly. Most drivers are paid by the mile, but dispatchers, salespeople, and other salaried employees could be affected.
Trucks & Commercial Vehicles
Office of Freight Mobility
The Office of Freight Mobility is responsible for advancing policies and programs that mitigate the adverse impacts of trucks on infrastructure and communities, while also improving truck delivery efficiency with an overall mission of supporting the City's economic competitiveness. The Office of Freight Mobility can be reached through our hotline number at 212-839-6670.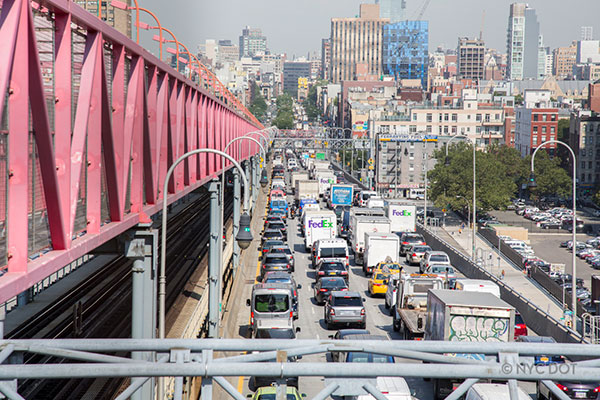 Trucks and commercial vehicles are essential to New York City, providing goods and services to millions of New Yorkers every day. The City's diverse mixture of land uses, dense urban environment and vast transportation infrastructure require a distinct set of rules and regulations to govern the operation of trucks and commercial vehicles. In order for this system to function efficiently, it is important that drivers observe these rules and regulations.
The information provided on these web pages is for educational purposes only. Please refer to the official New York City Traffic Rules and Regulations for the most current rules governing trucks and commercial vehicles.
A pull out outrigger,  does not require a board as does the swing outs or attached outriggers. Ramps provide access for driving the vehicle right onto the trailer outriggers. This type of system provides for a more stable loading as you don't experience movement on the board. An outrigger board lays on top of swing out or attached outriggers. The left image shows a board on attached outriggers. The end of the board has the potential to "flip up" once a wheel begins to travel on the board. Precautions should be taken to avoid "board flip". A trailer with outriggers is generally 96" or 102" wide. A 96" trailer is generally used more with agricultural equipment hauling. The outriggers can then be used to increase the trailer width to support as we mentioned earlier larger pieces of equipment that need a wider base or wider trailer. Another advantage to pull out outriggers like the kind shown below is that they can extend allowing a 13'6" wide trailer base. Whereas swing out outriggers might only add around 10" additional trailer width to each side. Pull Out Outrigger Attached Outrigger Swing Out Outrigger I mentioned "board flip", but boards can also brake or bust and so pull out's that don't use a board have that advantage. A board can bust easier depending on the spacing of the outriggers as well. Typically you will find spacing between outrigger supports every 12" to 22". Thank you and I hope you know more about trailer outriggers.